PRESTIGE LADIES LUNCHEON
The Art of Looking and Feeling Good
The latest Prestige Ladies Luncheon, held at Ismaya's fabulous SKYE "Lifestyle Resort in the Sky" on Wednesday, July 10, focused on the art of looking good and feeling fabulous. Feeling fabulous comes from living in the perfect home, as was explained by Pamela Yulyanti of Barito-based Le Chateau Living. Each brand in a showcase should be able to radiate its unique qualities. This was the principle behind the design for Le Chateau Living, a high-end sanitary ware showroom of brands from world-renowned designers.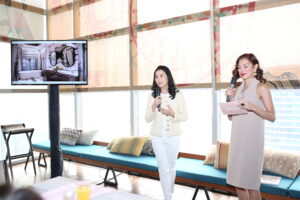 Shirley Guow, a member of ID12, a group of 12 acclaimed interior designers, told the guests : "It's important to choose the best products – so that visitors can say, I want this bathroom!" During the event, Le Chateau Living showcase a luxurious collections of bathroom sanitary and home accessories , which exclusively designed by Shirley Gouw. Stunning marble backdrop is supported by Fagetti, while home accessories provided by Conchita Home.
The menu prepared by SKYE's team of top chefs began with the house's signature crispy fish taco. The main course was beef shorts ribs. The delicious meal wound up with a fruit carpaccio and mango sorbet. Aimee Juliette was the glamorous MC for yet another successful Prestige Ladies Luncheon.
Related posts